About Marilyn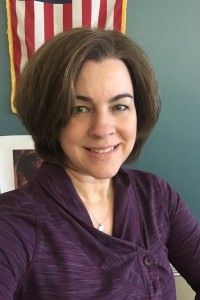 Welcome! While you are here, I hope you find meaningful, practical teaching ideas for the middle and high school ELA classroom. I also hope you leave with thoughts for reflection, and motivation to stay true to our highest ideals as educators. And please connect with me via email and conferences! One of the greatest joys and benefits of our profession is our collaboration with each other.
I am a classroom teacher certified in secondary English and reading instruction. I've taught at the middle school, high school, and college levels, and in several ELL programs. My first job, after graduating from The University of Scranton, was in Kathmandu, Nepal, with the Jesuit Volunteer Corps. Later, while living in Boston and completing an MFA in Creative Writing from Emerson College, I got my dream job: teaching a full-time 8th grade writing workshop. I quickly realized I was in unchartered ground. On one hand, I wanted to offer students plenty of choice and exploration in the writing process; on the other, I knew I needed a structured system if I was to manage five classes of 20-25 students a day. I began creating my own materials and scaffolding them to ensure a progression of learning. When I left Boston and moved back to my home state of Pennsylvania, I wrote up my ideas to help other teachers teach writing. This became my first book, Teaching Students to Write Effective Essays. Since then, I have written three additional books about writing workshop and writing instruction. In 2014, my fifth book, 50 Common Core Reading Response Activities, was published. For this book, I drew from the most successful activities I have used in my English literature classes. I now teach 10th grade World Literature in Clarks Summit, PA, and last year, I proudly became National Board certified. I speak regularly at local, state, and national conferences. I believe strongly in every student's ability to become a better reader and writer and therefore, a better person, living a deeper life.
Please feel free to read my mission statement and my blog post about why every teacher should have a mission statement.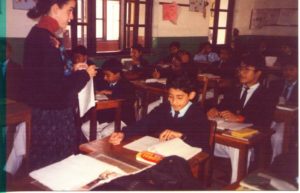 In my classroom in Kathmandu, 1993