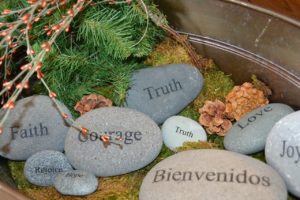 So often, I see students do something brave. It could be something small, like raising a hand for the first time all year, or showing up for a club meeting they've never been to before. But many times, it's more.
Sometimes I see it in their writing: They write about a difficult move to a new place, a lost loved one, or their parents' divorce. They write about their addictions and the ways they hurt themselves and others; they write about their doubt. They write, and what comes out took courage. When they go beyond the requirements of the assignment to explore their own  fear and pain, I am truly moved.
But there are real-time moments of bravery too. One student sat down with me to say she'd been struggling with anxiety; one showed another teacher texts from a friend who mentioned suicide. Last year, a student approached my desk after class, and with a quiet voice asked if I would use plural pronouns, instead of the traditional gendered pronouns, when I referred to them. The student said it took all year to build up the courage to ask.
As part of our World Literature curriculum, we read excerpts of the original texts of several world religions. Last week, during our Islamic Literature unit, one student explained that her name came from the opening of the Qur'an. She said she was named after the most important surah, the one about new beginnings. She is the only Muslim in the class. The other students listened, and I was proud of them all.
As educators, we see the result of student struggle and pain all the time, in the form of acting out or checking out. But to see the moment a student finds a voice, even a small voice, is to realize you've witnessed something powerful. It is one of the sacred parts of being a teacher.