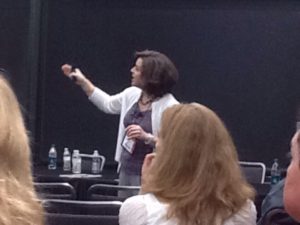 I speak regularly at conferences and institutes. Here are some of the session topics I've done recently:
Using a Structured and Scaffolded Writing Workshop Approach with ELL Students
Often, I hear ELL educators discuss how overwhelming writing workshop seems, or how difficult it is to accommodate all levels of English proficiency when teaching writing. My goal is to dispel those beliefs, and to empower participants to confidently use writing workshop in their classes. Writing workshop is especially effective for ELLs when conducted in a step-by-step, scaffolded way, focusing on topics that come from students' real lives. We will discuss: appropriate pre-writing group/partner activities to generate ideas and vocabulary; a model checklist-style "assignment sheet" in two levels (beginner and advanced) which the students can use as a guide; sample pre-writing sheets (again in two levels) which students can use to organize their thoughts; examples of drafts in various stages of revision; and a sample rubric. I will then suggest mini-lessons for the assignment, including two or three "Leveled Mini-lessons" in conventions tailored for English proficiency.  Once participants understand the presented techniques, they can create their own writing assignments in any genre, for any curriculum.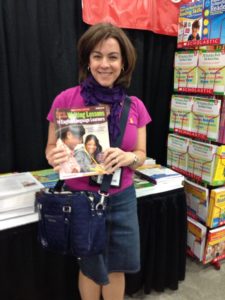 Creating and Running a Writing Workshop Tailored to Your Students' Needs
Most teachers agree that having students write authentic, meaningful pieces is best. However, implementing a writing workshop can seem overwhelming, especially when considering issues like pacing, grading, choosing genres, class size, and so on. Here, we will discuss ways to realistically incorporate writing workshop into an English curriculum, regardless of how much class time is available. While the teacher determines the genre, sets step-by-step instructions, and ultimately gives numerical grades, the students always choose the topics, move through the writing process with their own ideas, and revise as much as needed. This structured approach allows teachers to assimilate the most important elements of writing workshop in order to help students genuinely improve as writers. Handouts provided.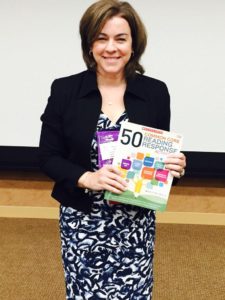 Reading Response Activities Aligned with the Common Core
This session will demonstrate several easy reading response activities middle- and high-school teachers can use in the classroom.  Some of the activities are practices that can be cultivated throughout the year, and some are bigger projects that can be sprinkled throughout the curriculum.  Activities include Genre Recipes, Text-generated Infographics, Evite Pages, Written Reading Responses, Concrete Found Poems, and more! All activities require students to practice the close-reading, text-based skills listed in the Common Core.  Participants will leave with many creative, hands-on, collaborative, fun ideas to incorporate into their classrooms.  Handouts provided.
Reading Responses Workshop
In this session, partners will practice the technique of writing short, text-based Reading Responses in a variety of categories. We will discuss the deep reading skills required to craft a reading response, and the way individual student choice drives the practice. We will then explore the many applications of the technique, including in-class collaboration, student-led in-class discussions, and online discussions. This easy practice will transform your classroom! Geared toward middle and high school, though can be adapted for elementary. Sample texts and handouts will be provided.
Writing a Teacher Mission Statement Workshop
In this workshop, teachers will be led through the process of writing their own professional mission statements, tapping into their passion for teaching and their love for their content area or grade level. This is a wonderful chance for participants to recharge, and refocus on their deepest motivations for answering the call to teach.