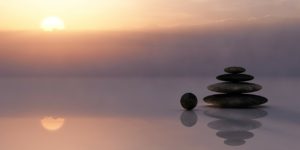 One of my favorite poems, which I turn to often, sums up my philosophy of teaching. It's from the Tao te Ching, the ancient text on living and leading by Lao Tzu. The 81 poems in this classic work are sometimes not translated as poems at all, but I enjoy them in the broken lines and white space of free verse. I am partial to the translation by the American poet Stephen Mitchell. (You can find his full translation here.) Here is #17:
When the Master governs, the people
are hardly aware that he exists.
Next best is a leader who is loved.
Next, one who is feared.
The worst is one who is despised.
If you don't trust the people,
you make them untrustworthy.
The Master doesn't talk, he acts.
When his work is done,
the people say, "Amazing:
we did it, all by ourselves!"
As teachers, we have probably gone through the stages of wanting to be loved or feared, of wanting a stellar reputation, or of having everyone's favorite class. If this is how we approach teaching, though, with a goal about how we want to be perceived, we will fall short.
Being loved is second best according to the Tao; being the invisible instrument of another person's growth is best. This thought surprises me each time I read the poem. To be an invisible instrument, we must silence the ego. It is difficult for any person, but it is especially difficult for anyone who leads, who has his or her own space, who feels passionately about the work, who has honed a style, or who has created anything and feels attached to that creation—all of which teachers have done. Teaching often feels tremendously rewarding: Who doesn't love the feeling of helping someone, of being listened to, of feeling the conviction of purpose? We have our own personalities and strengths, to be sure; we must use the gifts we are given. But to teach without attachment to these strengths—this is the call of the Tao.
How to do this? The work of it is never-ending, I think. It involves some kind of personal practice in presence, whether that be meditation, prayer, walking, or something else. It involves complete devotion to the content, and finding ways to remain both informed and passionate about it. It involves not taking student reactions—whether good or bad—personally. (This might be the hardest one.) This doesn't mean we don't change and improve with experiences; it means we do it objectively, without the goal of being better liked or more feared.
To be clear conduits of our content, to empower students to learn on their own—this is Lao Tzu's recommendation. The "Master" teacher does not amaze others; rather, her students amaze themselves. But this does not mean the master is unnecessary. At our best selves, we are the unseen scaffolds of truth and wisdom. We embody the presence of love in its purest sense—a love of content, a love of humanity. And we trust that deep down all people, especially the younger ones sitting before us, want to grow and learn.